Today's recipe is from page three of Althea's recipe book. It is dated 'Queen, March 1880′ and so it is likely that Althea copied it from Queen magazine, which had been established by Samuel Beeton (Mrs Beeton's husband) in 1861. I have to say, it was tempting to skip this one. There is nothing much appealing about rissoles, conjuring up as they do memories of cold, fatty school dinners. Even the name is unappealing. But I had already passed over the recipe for clarifying dripping, so it was time to face my fears.
Rissoles, in the same vein as Potato Puffs, were designed to make the most of leftovers, stretching the Sunday roast a bit further into the week. Dorothy Hartley in Food of England cites Andrew Boorde in the sixteenth century and his recipe for 'Risshe shewes' and Elizabeth Ayrton in The Cookery of England suggests that it probably derives from the Norman French réchauffés – reheated.
I used leftover pork because that was what I had. I'm not a huge fan of cold roast meat and the smell of the mixture was not appealing. When I followed Althea's recipe, the cakes constantly fell apart and so I used an egg to bind the mixture. With careful frying, they held their shape; as the breadcrumbs took on colour, they started to look edible. I'm not sure I would cook them again but they were actually quite appetizing by the time they were cooked through.
I was puzzled by the reference to Harvey's and Reading sauces, as I had not heard of either. Apparently both sauces were popular in the Victorian era but fell out of favour during the twentieth century, leaving Worcestershire sauce as the undisputed king of fish-based sauces. The recipe for Reading Sauce included walnut pickles, soy sauce, ginger and long pepper whereas Harvey's Sauce featured mushroom ketchup, garlic and strong vinegar. I recreated the latter sauce, which can be seen above in the blue dish. Both sauces merit their own post one day but suffice to say it was 'garlicky'!
On the family front, today's post goes back in time to focus on Althea's parents and the start of their relationship. Charles Hensley Maberly, her father, was born in c.1798 in St-Martin-in-The-Fields, London. He was the eldest son of John Maberly and Elizabeth Hensley. Rather intriguingly, John is usually referred to in genealogical documents and trees as John 'The Rip' Maberly but I have yet to find out why! The Maberlys were the descendants of tanners from Wiltshire. Charles's grandfather John and his brother Stephen had become curriers, skilled craftsmen who made the tanned hides fit for use. Around 1760, they established premises in Little Queen Street, Holborn, in an area that was the centre of luxury trades in the capital.
The family were well-established by Charles's time. Apparently some of his diaries from age 19 are held at the University of Pennsylvania (a future research trip right there!) and the summary information on their archives website reveals a little about his life and personality:
'Maberly stated…the journals would be written in French for the purpose of his education and study. [He] stated his intentions were to learn the languages of French, Italian, German; the history of Greece, Rome, and France; and to learn astronomy and music. The daily entries follow Maberly's education and experiences across Europe. He wrote of lectures, professors, and texts with names and notations. He noted each country and city, meetings with professors and clergy, and visits to cathedrals and historical sites.
In Volume 1 Maberly wrote of his journey to the Netherlands where he stayed in Amsterdam and Utrecht. In January 1818 Maberly wrote of his stay in Moscow. Volume 2…recorded Maberly's two-month stay in Austria from June to July, 1818. Volume 3 spans from 1818 to 1819. Maberly had an extended stay [at] Aix-la-Chapelle, Aachen, Germany. Volume 4 contains Maberly's stay in Paris beginning in August 1819 and [ending] in February 1820. [Then] Maberly travels to Dublin, Ireland for a two-month stay in 1821. Maberly notes his twenty-first birthday on September 2, 1819. Maberly illustrated the journals with small ink drawings. Each year Maberly noted the execution of Louis XVI with an illustration.'
His Grand Tour seemingly complete, it was Dublin that was to influence the next stage of Charles's life. The Alumni Dublinenses states that he entered Trinity College in Dublin in 1820. He is recorded as a 'pensioner' which, in this context, means that he paid a fixed annual fee for his education and was therefore from a middle class or upper middle class family. His father is down as 'John, Generosus' meaning he was a 'gentleman'.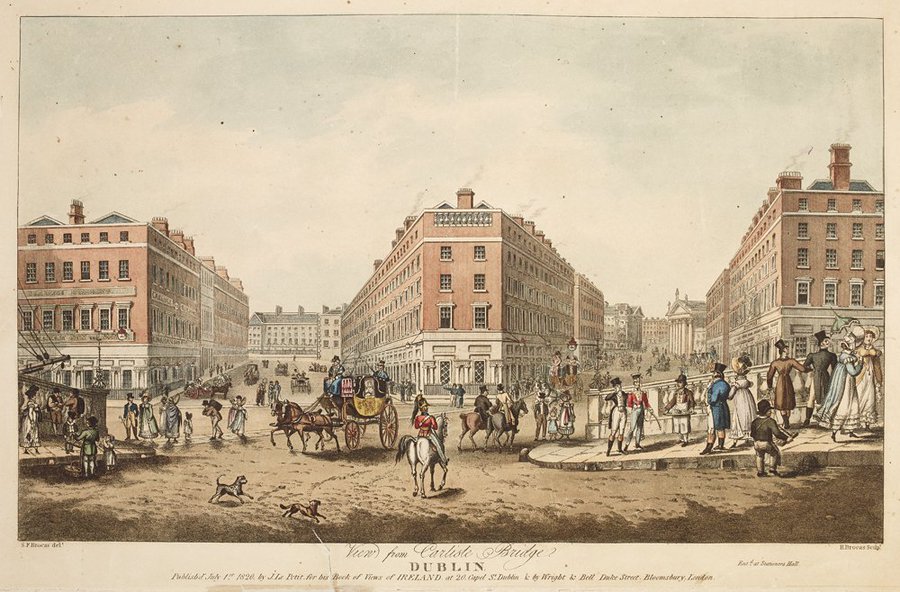 Charles graduated with a Bachelor's degree, in spring 1825, and was by this point already ordained as a clergyman. But perhaps Charles had other things on his mind at the time as, on February 15 1825, in St Thomas's Church in Dublin, he married his wife Charlotte M'Naghten (variously spelt also as McNaughton and McNaghten). Charlotte was the eldest daughter of Robert M'Naghten, a Dublin solicitor. Originally from Coleraine in the north of the island, he lived at 38 Summerhill, then a fashionable area of Georgian residences south of Mountjoy Square. The M'Naghten family themselves certainly merit a post of their own at a later date…
I do not have any pictures of Charles or Charlotte (my great-great-great grandparents) and so the story of their courtship would end here, were it not for a small box I have inherited:
Not much wider than two cigarette boxes, the boxes contain love letters from Charles to Charlotte, from before they were married:
Most of the letters are not dated but a couple are from 1824. I have yet to fully transcribe them all, as the script is small, elaborate and sometimes faded but I hope that they will give me a little more information about Charles's time in Dublin, as well as Charlotte's early life. Sometimes they are addressed to Miss McNaghten and at other times to Charlotte; Tina appears to be a pet name for her! A couple are written in French. A glance through them reveals the intensity of Charles's feelings for his future bride.
'My dearest Charlotte. I love you too much to lose one opportunity of telling you so in my absence, short as it may seem to the indifferent. A few short hours – oh! They are ages for Hearts of such temper as ours! The more I am with you, the more I love you. Dearest Charlotte, our happiness will be undying, ceaseless as the life which we have received from above'.
'Are we, my life, to meet this day? I can hardly bear the idea of delaying a pleasure so dear. The thought of ending lengthened absence is the only reconciling ground for the sacrifice. Mamma must now begin to see and believe that all is over as to other matches on either side. That whether present or separate, we belong to each other. Adieu, my love. Have you a headache? If you have, it is half of mine, we have one between us.'
Mamma must have indeed accepted that her match-making was at an end. Their first daughter, Mary Caroline, was born on 9 December 1825 – truly a honeymoon baby! Eleven more children were to follow, with Althea the last. When I think about all those children and all the many directions that the letters could have taken – to New Zealand, Tanzania or Kenya, that I know about – it feels like a miracle that they have survived and that I have them some two hundred years later.